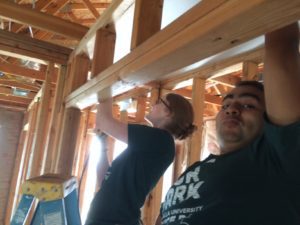 Habitat began building in the Walla Walla County in the early 90s as Blue Mountain Partners, building at a rate of approximately one house every 18 months. In late 2014, Blue Mountain Partners dissolved as an affiliate and joined Tri-County Partners, effectively expanding resource capacities for Walla Walla. An Operations Committee, made up of Walla Walla community members, oversees the construction of Habitat homes in the county and provides family services for existing and future Habitat families.
(Visit the Volunteer page for FAQs)
Consider supporting the work in Walla Walla by joining a team! We are looking for interest, expertise, or simply your participation in one of the following areas:
Fundraising, Family Services, and Construction.
Contact Nick or Janelle for more information.