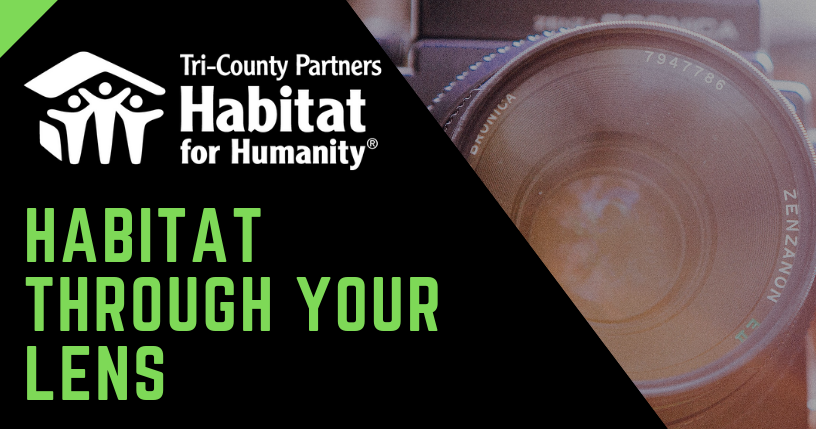 Starting with the New Year, Habitat will be holding a Photography and Videography competition for all of the high school students in the three counties we serve; Benton, Franklin, and Walla Walla.
The competition will open on January 7, 2019 and close on April 8, 2019. The winners will be announced on April 29,2019.
Our goal is to get high school students educated and involved with their local Habitat for Humanity while supporting them in the activities that they are passionate about.
As you may know, Habitat for Humanity is a 501c(3) nonprofit organization, dedicated to building homes for qualified low-income families. Since 1994 we have built over 110 homes and served over 300 children in our community with zero foreclosures. We are currently in the middle of constructing a 24 home community in Pasco. All the money that our Habitat raises, goes towards our mission to take families out of poverty living and give them a stable & healthy home environment.
Statistics show children brought up in stable environments have an increased chance of graduating from both High School and College. Our families fit within these statistics. Decent homes with an affordable mortgage can build strong and stable families. And strong and stable families build strong and stable communities. A lot of good comes with a Habitat Home. Which includes independency, empowerment, financial freedom, and so much more.
Now more than ever we need the help of the community to give qualified low-income families in our Tri-County area the opportunity for hope, change, stability and health. That is exactly what a Habitat home provides.
Files
Judging
If you would like to be a Judge in this competition, email us at Development@habitat-tcp.org.
Gift Baskets
Items included in the gift baskets will be announced on January 7, 2019. First, Second, and Third place submissions for both Photos and Videos will receive gift baskets for the whole team sponsored by local businesses and corporations including Silverwood, Gold's Gym, Tri-City's Court Club, Red Dot Paintball, Starbucks, Rollarena, Dutch Bros, and including many others.
If you have any questions, feel free to email us or call our offices and we will answer them to thebest of our ability.
Albert Gutierrez | Development@habitat-tcp.org | (509) 943-5555 ext. 202